Get More than Just a Truck: The 2017 Black Ops F-150 & Shelby F-150 
It's common knowledge that all Ford trucks offer the ultimate in utility, capability, and dependability, and the 2017 Ford F-150 is a shining example. This full-size truck is brimming with rugged durability, plenty of power, and a host of amazing safety features to ensure that you and your precious cargo are protected no matter where the road takes you. To top things off, we at Sunset Ford now offer two incredible F-150 models filled with upgrades and features that bring the already powerful truck to a whole new level: the 2017 Shelby F-150 and 2017 F-150 Black Ops. For more information on these limited edition models, contact us now or stop by and visit our dealership in St. Louis, MO to test drive one today!


2017 Ford F-150 Black Ops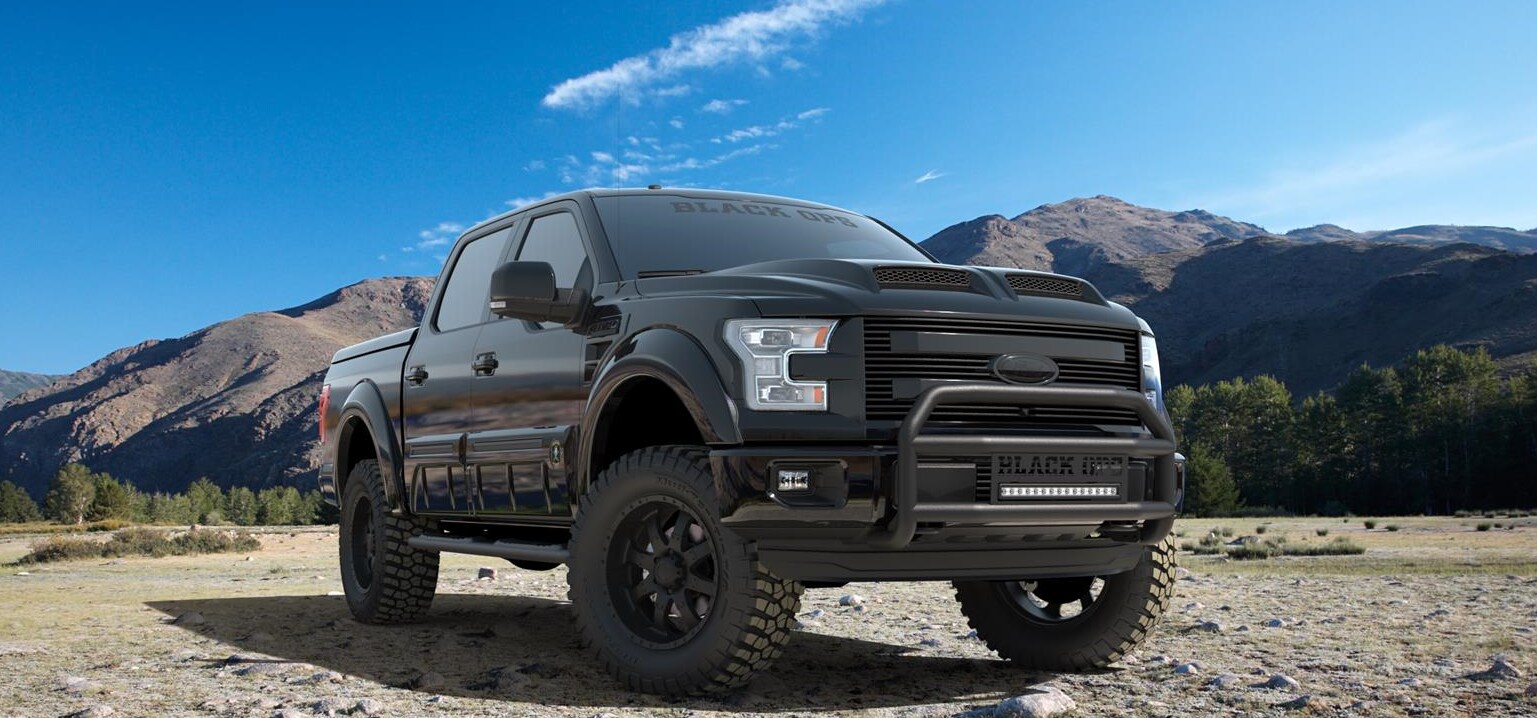 If you're looking for a little upscale luxury on your off-road adventures, check out the beautifully designed 2017 F-150 Black Ops. Boasting a stunning black exterior with 20" alloy wheels, blacked out factory badging, and Black Ops door cladding and logo, this tough truck definitely commands attention at first glance. And since this vehicle was developed as a tribute to honor the brave men and women who have fought for our freedom in the United States armed forces, $200 is donated to Wounded Warrior Project for every F-150 Black Ops produced. If you are anywhere in the surrounding areas of Fenton, Mehlville, or Ballwin, MO, make the short drive to Sunset Ford in St. Louis, and experience all the 2017 Black Ops F-150 has to offer first-hand.

Place Your OrderGet Pre-ApprovedView All F-150 Inventory
2017 Black Ops F-150 Standard Features
EXTERIOR FEATURES
20" BFGoodrich 325 All-Terrain T/A Black Wall Tires
Stealth Black 20" Tuscany "BLACK OPS" Wheels
Heavy Duty Pro-Comp Performance Shocks w/Black Boots
Front End Alignment
Tire Sensors Recalibrated
AccuPro Speedo Recalibrator
Painted Black Factory Badging (No Exterior Chrome)
Painted Black Ford Ovals
Painted Black Fender Flares
Full Replacement Grille
Painted Black Grille
Painted Black Dual Ram Air Hood (Full Replacement)
Painted Black Tonneau Cover w/ Carpet Liner
Black Powder Coated Bull Bar w/ Black KC Lights & Rock Guards
(KC Lights For Off Road Use Only)
Black Powder Coated 5" Oval Step Bars (Ford Factory Style)
Black Powder Coated Dual Tip Performance Exhaust
"BLACK OPS by TUSCANY" Exterior Badging
INTERIOR FEATURES
Factory Leather Seats with "Black Ops" Embroidered Patches in Headrests, American Flag Patches in Seats
Deep Tinted Windows
3 Year / 36,000 Mile Warranty
OPTIONAL EQUIPMENT
Black Ops LED replacement headlights
Painted Black / Leather Steering Wheel
KM2 Mud Terrain Tires (Upgrade)
Bed Rug Bedliner
Lariat Chassis Required Option
Adds: Painted Grille, Powder Coated Bumpers, Painted Mirror Caps, swap out Lariat headlights & taillights to FX4 smoked.
Stage One Lift (Exchange Credit)
(2" Kit Replaces 6" Lift and Down Sizes to 305 Tires)
WOUNDED WARRIOR PROJECT DONATION
Tuscany donates $200 to Wounded Warrior Project
2017 Ford F-150 Shelby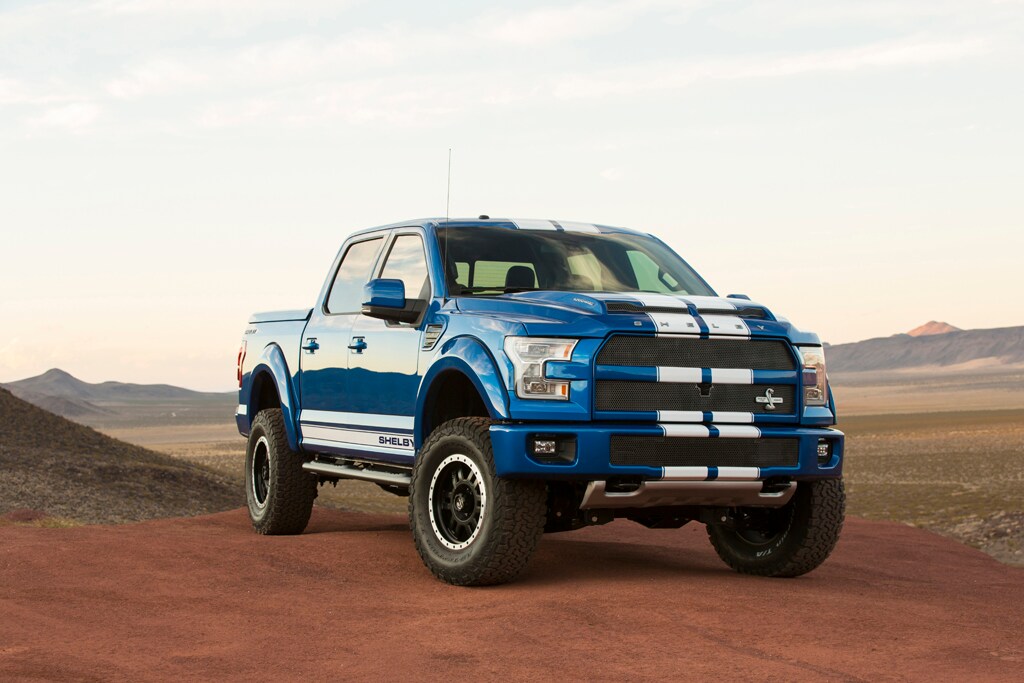 Looking for even more power? You won't be disappointed with the 2017 Shelby F-150! Using more than 45 Shelby proprietary high-performance upgrades, this truck offers style, luxury, and massive power. Sporting the unmistakable Shelby striping and badging, as well as some upgraded tweaks to the standard F-150's exterior, you'll definitely be turning heads wherever you go. Those onlookers will have to look quick, however, since the Shelby F-150 comes with a choice between a naturally aspirated 5.0L V8 engine that churns out an in impressive 395 horsepower or an even more  extraordinary supercharged engine with up to 750 horsepower. That's more than enough power to take on any adventure you have in mind. You can get an in-depth look at the amazingly powerful 2017 Shelby F-150 today when you visit us at Sunset Ford in St. Louis, MO.

Place Your OrderGet Pre-ApprovedView All F-150 Inventory
2017 Shelby F-150 Standard Features
EXTERIOR FEATURES 
18" Shelby Engraved Alloy Wheels 
BFG All-Terrain KO2 35/12.50R18 Tires 
BDS Suspension by SHELBY 
SHELBY Exclusive Fox Shock System* 
SHELBY Speedo & Tire Sensor Recalibration 
Black Powder Coated SHELBY Step Bars - Painted Fender Flares, Vents, & Custom Front Bumper 
SHELBY Rocker Panel Graphics & Full Body Rally Stripes 
Honeycomb Racing Grille with SHELBY Snake Insert 
SHELBY Lettering on Hood, Tailgate, & Bed - Supercharged Logo on Hood Air Intakes 
Painted Custom Rear Bumper Cladding - Painted Tonneau Cover w/ SHELBY Bed Rug Carpet Liner 
Shelby Registry Engine Plaque
INTERIOR FEATURES
SHELBY CSM Serial Number Dash Plaque 
SHELBY Snake Badged Console Lid 
SHELBY Snake Embroidered Headrests 
SHELBY Floor Mats 
Deep Tinted Windows - 3 year / 36,000 Mile Warranty 
CHASSIS FEATURES
2017 F-150 Super Crew 5.0L 
Fully Loaded Lariat Luxury (502A Package) 
PERFORMANCE FEATURES
Shelby Engineered 750HP Supercharger 
Open Air Performance Intake w/ High Flow Filter 
Blower & Intake Manifold Powder Coated Ford Racing Blue 
Oversized Carbon Fiber Air Intake Tube 
Performance Aluminum Heat Exchanger 
Upgraded Billet Throttle Body 
Upgraded High Performance Fuel Injectors 
SHELBY Tuned BORLA Performance Exhaust 
Black Ceramic Dual Exhaust Tips 
Dual Intake "RAM AIR" SHELBY Super Snake Hood
Rear Performance Traction Bars 
Front Fender Vents for increased Engine Cooling